DUŠAN
KOVAČEVIĆ
Director of Zvezdara theater, academician, writer,
drama writer, screenwriter and stage manager
THE SMELL OF THE THEATRE
One of the reasons you fall in love with the theatre is its smell. Today, when there is a theatre being built here and there, I have to mention one thing – theatre chairs; they cannot be made of plastic, they have to be made of velvet, since the velvet is what savours that particular smell and magic of the theatre. The physical appearance of a theatre is not the only thing that matters; a theatre has a specific smell which seduces members of its audience in a demure fashion, transporting them from reality to the world of illusions. If this intimacy and magic of space and its smell are disregarded while building a theatre, afterwards actors have to work very hard to recreate something that should be natural. It is like stepping into someone's home and feeling certain warmth, without that special smell, in the theatre, the warmth then has to be simulated and actors have to recreate it with their energy.
The theatre, in general, has a somewhat magnetic power over people who are often on the sidelines of real life, and bears a certain similarity to them as an unreal construct in its own right. And if I can add one more very important thing: a theatre is not a building – the way that most theatres are being built today; a theatre is a house, as it has always been "a theatre house", where people in love with theatrical illusions live.
WRITING
I have come to a conclusion that writing is not a normal profession. Certainly, it is not the most standard one. It is not normal for a man to be inventing things all day. It cannot be natural for a man to get up in the morning and write dialogues, or talk to himself. A writer, in general, should be kept at bay, because you never know whether he has, at any given moment, become a character from one of his plays (…) Writing plays reminds me of a box match. There is a ring – a scene, and two people get in there and fight with words until one of them is knocked down. Writing is physically demanding as well. You have to drain yourself of the most creative energy you have and pour it into 60 or 70 pages in order for actors to take it off the page and bring the written characters to life with their own energy.
My definition of theatrical art is: energy plus brains, as much as God has given you.
ПИСАЊЕ
Дошао сам до закључка да писање није баш нормална професија. Сигурно није најнормалнија. Није нормално да човек цео дан измишља нешто. Не може се рећи да је природно да човек устане ујутро и пише некакве дијалоге, разговара сам са собом. Писце би, у принципу, требало држати мало по страни. Јер, не знате да ли је у неком тенутку постао лик из свог комада.(…) Мене писање драма често подсећа на бокс меч. Имате ринг – сцену и два човека који уђу унутра и туку се речима док један не падне. Писање је и физички напоран посао. Морате из себе да исцедите најкреативнију енергију да бисте је унели на тих 60-70 страна, да глумци ту енергију преузму и својом додатном енергијом оживе написане људе.
Моја дефиниција позоришне уметности гласи:
Eнергија плус памет, колико вам је Бог дао.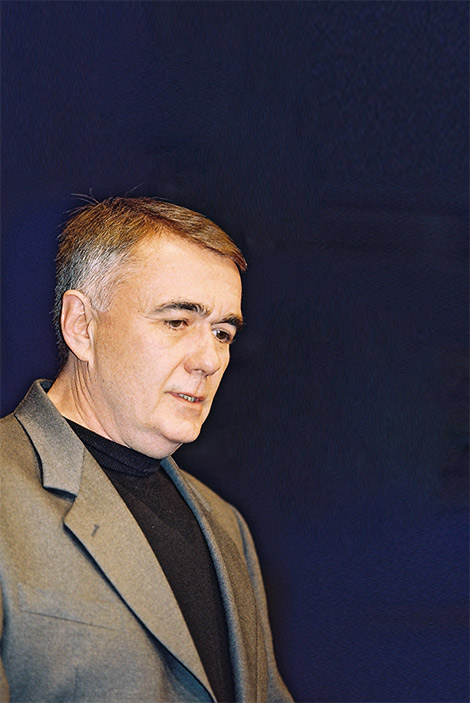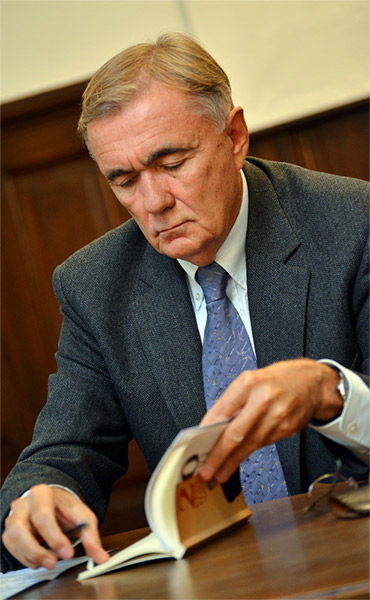 BALANCE SHEET
I have written all my works out of great convictions, out of certain atavistic obsessions. I have got rid of my conscious or unconscious fears by writing dramas. Sometimes I would say it jokingly, but it was never just a joke: had I not become a writer, I would have been telling stories to a psychiatrist. However, now I am telling them to those who come to the theatre, and I am getting paid for it. At least I have that to show for the fact that there is someone or something constantly buzzing in my head. (….)
I have plenty of story drafts, and I could write a play every two months. But I do not want or need that. I do not want to leave something of a supermarket behind. I want to leave behind something more like a boutique. It is not that it will store only the designer goods, but two or three pieces in it should be priceless.
I have already said it many times, and I will repeat again: in my life, I have done more than I expected and less than I was able to.
BIOGRAPHY:
Dusan Kovacevic was born in Mrdjenovac near Sabac in 1948. He graduated from the Dramaturgy Department at the Academy for Theatre, Film, Radio and Television in Belgrade.
He worked as a playwright in TV Belgrade until 1978. Between 1986 and 1988, he worked as an Assistant Professor at the Faculty of Dramatic Arts. He has been the general manager of the Zvezdara Theatre since 1998.
He was elected a corresponding member of SANU (Serbian Academy of Sciences and Arts) on 26th October 2006, and full member during the Electing Assembly on 5th November 2009.
He was appointed Ambassador of Serbia and Montenegro in Portugal in 2005.
In his plays, there are no sharp contrasts between genres; a character-comedy is interwoven with a comedy of manners, farce or drama, in the same way that happens in real life. As a playwright, he is often compared to Branislav Nusic.
He has written 20 plays and 15 scripts for film or television. He has directed both plays and films. His plays have been performed in more than 80 theatres abroad.
Plays (selection):
The Marathon Family (1973)
Radovan III (1973)
What is it in the human being that leads him to drink? (1976)
Spring in January (1977)
Space dragon (work for children in verse) (1977)
Limunation in the countryside (1978)
The Collective Centre (1982)
Balkan Spy (1983)
St. George Kills the Dragon (1986)
Claustrophobic Comedy (1987)
The Professional (1990)
Roaring Tragedy (1991)
Lari Thompson, the Tragedy of a Youth (1996)
Container with five stars (1999)
Doctor Shoemaker (2001)
Dinar per dinar (2005)
Dress Rehearsal for a Suicide (2008)
Life in Tight Shoes (2010)
The Best People (2012)
The Birthday of Mr Nusic (2014)
Hypnosis of one love (2016)
Film and TV Scripts (selection):
Beasts (1977)
Who's Singing Over There? (1980)
Special Treatment (1980)
The Marathon Family (1982)
Balkan Spy (1984)
The Collective Centre (1989)
Claustrophobic Comedy (1990)
Roaring Tragedy (1995)
Underground (1995)
Unce Upon a Time There Was a Land (1996)
The Professional (2003)
St. George Kills the Dragon (2009)
Awards and Acknowledgements (selection):
October Award Given by the City of Belgrade
(for the film script Sabirni Centar, 1989)
Golden Arena for the Best Yugoslav Film
(Yugoslav Film Festival, Pula, for Balkanski Spijun, 1984; for Sabirni Centar, 1989)
Award Given by Sterija's City of Vrsac for the Best Contemporary Drama
(Sterijino Pozorje, Novi Sad, for Maratonci Trce Pocasni Krug, 1974)
Sterija's Award for the Best Contemporary Drama
(Sterijino Pozorje, Novi Sad, for Balkanski Spijun, 1984; for Sveti Georgije Ubiva Azdahu, 1987; for Doktor Suster, 2002)
Branko Copic Award
(Novosti 8, Belgrade, for the drama and film script Balkanski Spijun, 1985; for the best comic satire, Klaustrofobicna Komedija, 1988; for the best comedy and satire for Urenebesna Tragedija, 1992)
Joakim Vujic Award
(for the exceptional contribution to the development of Serbian theatrical art, Knjazevsko-Serbian Theatre, Кragujevac, 1987)
Milos Crnjanski Award
(for the book "Drame", "Zaduzbina Milos Crnjanski", Belgrade, 1983)
Radoje Domanović Award
(for the overall contribution to Serbian literary satire, "Radoje Domanović" Fund, Belgrade, 2007)
Golden Palm for the Best Script
(Cannes Film Festival, Cannes, 1995, for Podzemlje)
Award for the Best Script
(Film Festival, Montreal, 1984, for Balkanski Spijun; 2003, for Profesionalac)
International Jury Award for the Best Film – FIPRESCI
(Film Festival, Montreal, 2003, for Profesionalac)
Ivo Andric award
(for the overall life contribution of Serbian literature, 2017)